7 WAYS TO GET FREAKY-FESTIVE THIS YEAR!
Oh, the holidays, such a festive time. Your tree is up and looking more fantastic than ever, presents are wrapped, adorned with ribbons and bows, and your stockings are hung- by the chimney with care (of course).
Yes, holidays are the most wonderful time of the year, but they also bring on a load of stress. Among all the shopping, baking, decorating and house guests, you may be feeling more like a fruitcake than the spicy little ginger snap that you really are. Perhaps, as a result, you may have even let your sex life fizzle out but, that's all about to change. Sure, Christmas is coming up on us fast, but don't worry, there is still time to earn your spot on Santa's Naughty List and turn those Ho-HoHo's into Oh-Oh-Oh's!
JINGLE HIS BELLS




When it comes to him, we tend to focus on the penis. Granted this is great, but let's not forget, testicles need love too! Try something different, before he fills you with his holiday spirit, spread a little joy of your own.
During a blowjob or hand job, squirt a little lube in your hand and stroke, massage, or cup his twins. You can even play around with different speeds, grips, or rhythms until you find what really makes his spirits bright.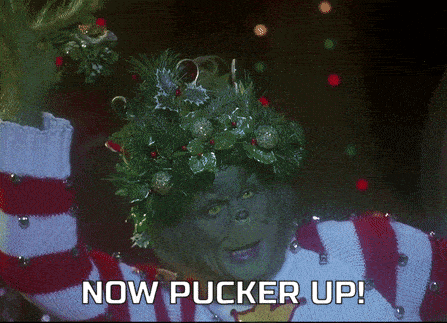 MISTLETOE MAKEOUTS


During the holiday season it's pretty common to hang a sprig of mistletoe in the doorway but who says you have to stop there. Go ahead, tack those babies up here, there, and everywhere. The more you have hanging, the more you will be making out.
BABY, IT'S COLD OUTSIDE


Just because it's cold outside doesn't mean it has to be a tidbit nipply in the bedroom. Invest in a bottle of warming personal lubricant and with a soft blow to the skin, you will experience warming bliss. Try it with any of the Wet Warming Deserts flavors, not only will it heat things up, it will also taste absolutely delicious.
SNEAK AWAY FOR A SPEED ROUND


Have a holiday event or party to attend? Sure, it will be a good time, but chances are you will only be able to take so much smiling and nodding while listening to a coworker who has had one too many glasses of spiked eggnog.
Oh, wait, their drink is empty, and they need another, quick, here's your chance!
Slip away for a quickie…or two. Because you are both dressed to impress and looking red-hot, you have been fantasizing about ripping their clothes off all night. Find a deserted office or closet and go at it!
DO THE UNWRAPPING FOR THEM


Find a time when your naughty little elf is out running errands. While they are gone, strip down naked and go about your business around the house. Once they are home, continue what you were doing as normal. Let them look, and oh boy- will they, but let the anticipation rise, don't allow them to touch until after you are done with what you were doing. They will be so hot and bothered by the time you are finished, the sex will be through the roof.
SEX SNOW ANGEL


Relax, you don't have to freeze your goodies off while getting down and dirty in the snow, it's just a sex position. Have her lie on her back as he straddles her in the opposite direction. Now, she wraps her legs around his back, allowing him to penetrate. Then, she reaches around and grabs onto his bottom pushing and pulling him back and forth, helping as he thrusts in and out.


OH, SANTA BABY


Does the idea of seductively grinding your tush on Santa's lap while confessing the naughty things you have done this year make you want to have a not-so-silent night? Or, perhaps just the thought of Santa needing to discipline a little elf who just isn't working hard enough lights a fire in your yule log. Either way, there are endless possibilities to act out that will have you both singing fa-la-la-la-laaaaa with a little XXX-Mas roleplay.